Shiny Minds are enlightened minds. When we have Shiny Minds, we combine the power of our mind with the wisdom of our heart. We make conscious, heartfelt and wise decisions. We become better. We serve the world better. Build yourself a Shiny Mind and maximize your true potential with the science-backed strategies from NLP, Neuroscience, ICF Coaching, Leadership, Communication, Emotional Intelligence, Heart Science, Positive Psychology, Quantum Physics, Metaphysics, Cosmology and my very own Neuro-Shine Technology™. And let's make this world a better place, with more love ❤️and #ShinyMinds ... ShinyUnsal.com
Episodes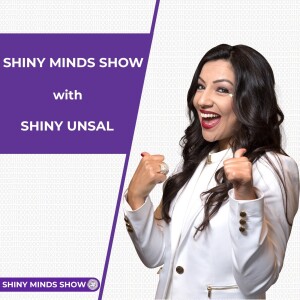 Thursday Apr 27, 2023
Thursday Apr 27, 2023
Hello everyone,
This week my topic is anxiety...
Especially after covid, in my online education programs, in my coaching sessions, in-person NLP training courses, wherever I am, I hear people experiencing higher levels of anxiety more than ever. And I receive a lot of questions like:
- Shiny, how do I deal with my anxiety?
- Shiny, what would you do if you were me?
- Shiny, I have this negative voice inside of me, never leaving me alone, what do I do?
Well, I have got news for you! Anxiety is not going anywhere! It's not leaving you or me anytime soon. It's like our lifetime friend. And let me make myself clear, I'm talking about our everyday emotion of anxiety, not any disorders related with anxiety here. I am not a psychologist sharing ways to cure your anxiety disorder; I am a social scientist, an NLP expert and a mindset educator with proven results over a decade, wanting to make a difference for you.
That's why I wanted to sit down and have a conversation with you about some practical ways to un-own your anxiety and give you some really simple yet awesome tips. Because, you don't need to OWN it.
Ta daa! What a new concept, right?
You can un-own your anxiety, TODAY!
With 4 steps!
Are you ready?
Let's go!
Made with love ❤️ for a better world, with more love ❤️ and #shinyminds...
By Shiny Burcu Unsal